Welcome to the Shop Palm Desert eGift Card
Keeping Local Dollars Local
The Shop Palm Desert eGift Card:
Uniting Companies, Consumers & Local Merchants to Grow Business in Our Community
As a business of the Palm Desert Area, you are invited to participate in our Community eGift Card program.
Community eGift Cards are a simple way for people and companies to "give back" and drive more business into our local stores. Custom-branded for us, they are digital gift cards that can be used at any participating merchants: restaurants, salons and spas, boutiques, sports and entertainment, hotels, etc. They are a quick and easy way to keep spending local, strengthening our local businesses and building our community.
There is no special technology or administration required to participate, as long as you accept Mastercard and can key in the transaction like a phone order. There is no fee to participate.
How Community eGift Cards Work
Sign up with your Chamber, ceo@pdacc.org.
Run the "Activation Card" as a digital Mastercard on your PoS to join. Put the Community eGift Card link on your website to sell more.
People will come in your business with a Community eGift Card on their phone (or printed). Click on the "View Gift Voucher" bar and process it as a key-entry Mastercard credit card.
Mastercard will authorize the purchase and you are paid as usual by your Mastercard bank.
Customers buy our eGift Card online at https://app.yiftee.com/gift-card/palm-desert and can give them as gifts, thank you's, teacher gifts, coach gifts, marketing programs, customer appreciation or just because. You can too!
They are all digital so customers will have them either printed or on their phones, as shown.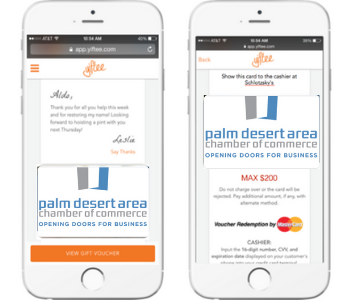 Community eGift Cards have kept $2M in spend local since Dec 2017. All-digital Community Cards are custom-branded and redeemed as virtual vouchers, powered by MasterCard, from mobile phones or printed.  With no back-office administration, funds are automatically paid to the merchant providing the goods/services via your merchant acquirer/Mastercard.
How to Redeem
Customer presents eGift Card on a mobile device or printed on paper.
Process as a MasterCard (credit card, not a gift card) - key in the 16-digit code, CVV, zip code, expiration as required by your PoS.
Do not charge more than the prepaid amount, otherwise the transaction will be declined. Online/mobile gifts always show the current balance. To check balance on a printed gift go to https://c.yiftee.com/check-gift-balance.
To process a payment that exceeds the eGift Card value, enter the card value first, then use another payment method for the remaining transaction amount. No tipping is allowed.
FAQ's
Below are some common questions regarding this program. If you have additional questions, or can't find your answer here, contact us here.